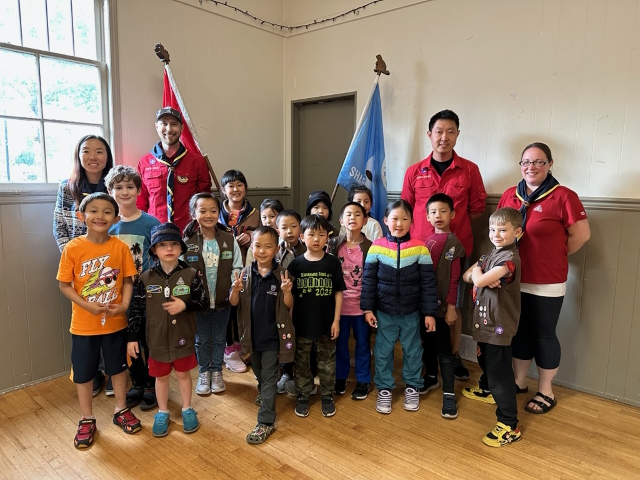 The 6th Peace Arch Beaver Colony is a fun craft & game oriented place for youth aged 5-7 (Kindergarten thru Grade 2). The focus of Beavers is Sharing, Sharing, Sharing, so activities are geared towards cooperative play.
Regular Meeting Date: Wednesdays
Meeting Time: 6:15 PM (gathering activities, formal meeting starts at 6:30 PM)
Meeting location: Ocean Park Hall, 1577 128th St, Surrey, BC V4A 3T7
Beyond our regular meetings we have many outings, camps etc. The schedule is continually being adjusted, so be sure to check the calendar below for updates.
For Space availabilty, please check the HOME page. For more information on the section, please contact the Section Head - Contact info on Home Page.
Parent Participation

We very much encourage parent participation as we do a lot of crafts and some crafts will require help for the younger ones especially. Knowing everyone has their own areas of expertise and interesting contacts, we welcome ideas and suggestions for games, crafts and outings ideas.


Sample of Previous Years' Outings
Breakfast with Santa (@ Camp McLean - put on by the Area Venturers)

Crescent Park Firehall visit)

Skating

Scouting Week campfire event - Centennial Park evening event for the whole family

Beaver Parent Sleepover - Movie and one night sleepover at the hall

Beaver Parent Camp - 2 night camping event at Camp McLean in Langley

Earth Day beach cleanup with the older scouts and BBQ after

Beaveree - one day event at Camp McLean in early May
Camping

We will have several opportunities this year for a camping experience.
Beaver Parent Camp in June at Camp McLean

Sleepover at the hall

and White Tail (3rd year Beavers) will be given an opportunity to camp with the Cubs

Fundraisers

To support our hall rental and our outings we of course need to raise additional funds beyond what your dues are, so we will do several fundraisers over the course of the year.
Apple Day - selling apples at Ocean Park Mall
Popcorn Sales - pre-selling of Scouts Popcorn to friends/family/relatives/strangers in October. Popcorn delivery in November
Bottle Drive - we are continuously collecting bottles/cans to help fund things, please ask us how you can participate.
6th Peace Arch Scouts - 2010